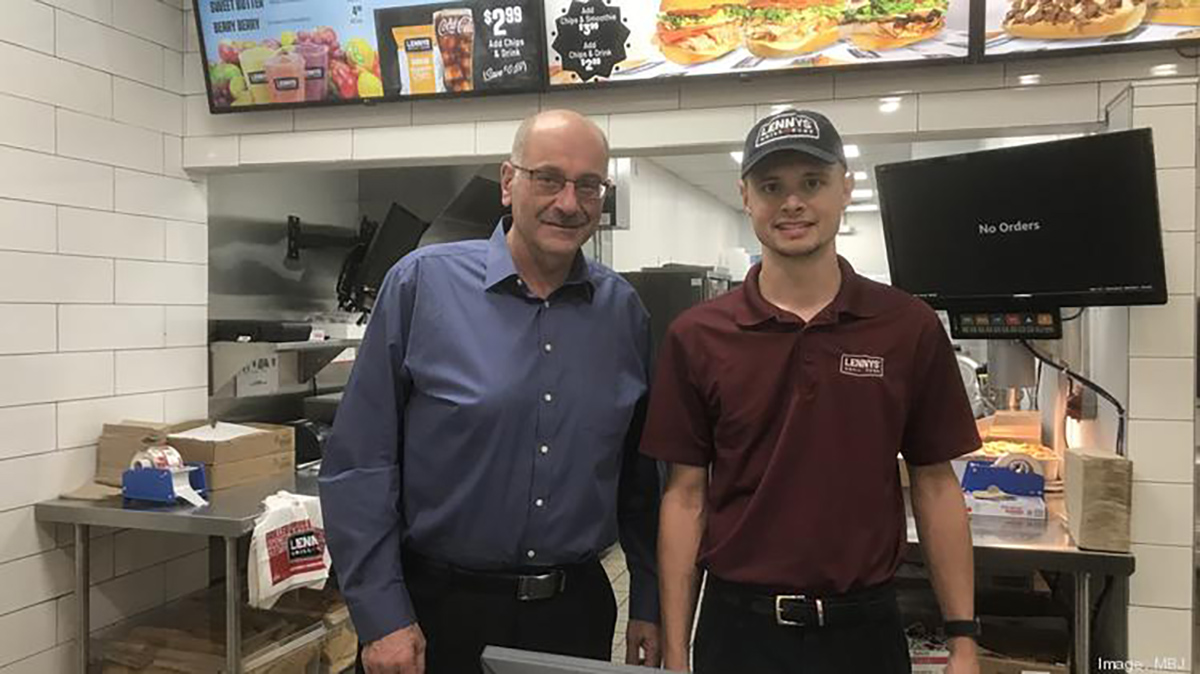 Pulling into the Walmart at 7235 Winchester Road one can't help but notice all the signs reading, "Now open! Lennys. Inside Walmart."
Indeed, the first Lennys Grill & Subs in a Walmart opened on Aug. 12. The store is one part of an expansion plan under its new ownership.
In late 2019, Lennys was purchased by Columbus, Ohio-based Gosh Enterprises. Gosh's brands include Charleys Philly Steaks and Bibibop Asian Grill.
With the new ownership comes a new Lennys president, Elias Moaikel.
"You've got the best of both worlds — the hot side with hot sandwiches and the cold side with deli sandwiches," he said. "And, now we've added the new line of smoothies to the menu. So, it gives you an opportunity to have a variety of different products on different days of the week."
On the new Winchester Road Lennys, Moaikel said that Gosh has worked with Walmart in the past.
"We started with our sister company building out of Walmart about a year or so ago," he said. "This is our first [Lennys in a Walmart]. There's a lot of opportunities to do more locations with Walmart."
He noted that in-store locations such as those serve two customer bases.
"You have a couple of benefits from it. You have a captive audience of customers coming in who want to fill their basket with groceries. They get hungry. They want to take a sandwich back home," he said. "But, the most important thing is that you're able to serve Walmart employees. The only thing they have available to them is obviously what's in the aisle and what's in the kitchen."
Moaikel said that Gosh is taking a store-by-store approach to expanding into Walmarts. Not all Walmarts are able to have in-store restaurants.
"What we're doing today is looking at which locations are available," he said. "Then we will do our study to make sure that [the location] will do well — the location is viable, in a high traffic area, and gives us brand awareness. We've already begun those studies."
Before buying the brand, Gosh considered the state of Lennys, according to Moaikel.
"We had to assess exactly where Lenny's was. Before you can move forward, you have to know where you're at," he said. "We assessed where the brand was at, what did it need. There was a reason why the brand was for sale. Charley [Shin, Gosh's owner] purchased it to expand it and make it bigger and grow."
Gosh is currently working to expand all its brands. Moaikel said that Lennys is aiming for 100 new stores in the next few years, going region by region — particularly the tri-state region of Tennessee, Arkansas, and Mississippi.
"We want to be very strategic about our growth because of logistics, purchasing, supply chain, staffing, and all that," he said.
Moaikel began his career at Wendy's; he then moved on to Charleys and now Lennys. He said he wasn't familiar with Lennys before. Now, however, his go-to sandwich is the Mile-high turkey. He adds a dash of hot relish for a bit of heat.
"Lennys is owned by individual people. It's in your neighborhood," he said. "People relate to that — 'Hey, it's a place that is right down the street from my house. I know the owner by name, or he knows me by name. I'm comfortable there, I go in and I sit down and I relax, and I enjoy my meal.' It's that relationship that the owner and the customer build over time and that trust makes people want to come back to Lennys."